ENGLISH INFORMATION
Is it theatre? Is it delicious food?
It's both at the Winterparade
The Winterparade offers theatre, music, dance and delicious cuisine at a 120-metre-long table! The table is used as a stage for a diverse programme with actors, dancers, musicians and more, while guests are treated to a delicious meal.
The delicious multi-course dinner will be catered by De Nieuwe Garde. Chefs and waitresses will be climbing the tables and making unexpected appearances along with the hospitable Candy Girls.
The dinner will be interspersed with a program full of surprising performances.
Already hungry for this unique event? Ticket sales will start at 5th of October 2017!
Buy your tickets here! Scroll all the way down this page for the answers to all your questions about the ticket sales. 
21 until 30 Dec 2017
Zuiderkerk, Amsterdam
5 & 6 jan 2018
Grote of St. Bavokerk, Haarlem
Doors open 6pm
Programme and dinner 6.30pm – 10pm
Silent Disco 10pm – 11pm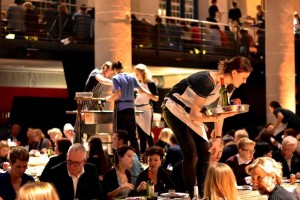 programme
The evening will start already outside with music and a hot beverage. Inside the church warm soup is waiting for you. A colourful group of artists (Club Gewalt, acrobat from Codarts, PIPS:lab Silentdisco.com, etc.) will engage you in 2 performance before dinner en and 2 performances after dinner. And it all happens on and around our 120 meter long table. There will be acting, dancing, acrobats, the making of a film and so much more. And in the meantime our cooks and waiter climb the table to prepare your food.
Directed by: Eva Bauknecht & concept by: Terts Brinkhoff
menu
Entree (served for 2 persons)
Pheasant terrine with red berry coulis
Grilled courgette with tapenade
Smoked trout fillet with lemon mayo
Served with toast and a cup of clear broth
Main course
Grilled veal with lemon pepper sauce or stuffed portobello from the oven (vegetarian), both served with mashed potato and green vegetable garnish
Dessert
Red fruit with whipped cream and chocolate sprinkles
Moeremans & Sons - The Moral Auction
In a monetary driven world, in which you would almost think money has real value, there now is the Moral Auction. A pop-up auction house where one doesn't pay with paper money or coins, but with an ethical currency.
What are you willing to lay on the Moral Auction-counter for the guarantee of never having your bike stolen again? A week of dumping your garbage in the ocean? Giving a child a pack of cigarettes? Would you be willing to drive while drunk – with all the consequences this will bring – for a life without financial worrying? And what would you do for a lifelong guarantee of your partner's health? Would you maybe even be willing to drive into someone, leaving him for dead? Going, going… Morally gone!
With: Eva van Gessel, Rosa van Leeuwen, Sofie Joan Wouters, Eva Meijering, Charlien Adriaenssens, Louis van der Waal, Joep van der Geest en Matthijs IJgosse.
Of all these actors, two will play per day. Click here to see the schedule.
CLUB GEWALT
CLUB GEWALT is music theatre
CLUB GEWALT does everything at the same time
CLUB GEWALT's third time on the WinterParade
CLUB GEWALT wears snowsuits
CLUB GEWALT sings
Henry Vega composes
CLUB GEWALT samples a manifest
CLUB GEWALT likes to dance
CLUB GEWALT loves winter and christmas
-xoxo- CLUB GEWALT
Kristie and Karen Su with Arlon Luijten - Pagan1n1 M0rphb1tch
'A dazzling performance about the violin, perfection and genetic manipulation.'
The violin virtuoso Paganini had extremely long fingers. This made him able to cover an impossible distance on the instrument, in a speed that was inhuman. Kristie and Karen Su's fingers have an average length of 8,5 cm. What if, in the near future, you could genetically optimize yourself, simply upload the art of making music via a chip,  and the magical 20.000 hours of rehearsal would never be necessary again…? 
With: Kristie and Karen Su, concept/director: Arlon Luijten
Sabri Saad el Hamus
"Turtles can tell you more about the path than rabbits."

The fleeing man Gaber Gibran is not the problem, he'll never be. He offers possible solutions. He offers love. He offers curiosity.

"Listen to a woman when she looks at you, not when she talks."
PIPS:lab's Triple D: Dutch Digital Dining
This year these masters of manipulation will shake up the Winterparade with an interactive 'Selfie Symphony' and a session of 'Dutch Digital Table Manners' with Robbert de Mangeleer, Cristian Roest van Alkemade von Quadt and Manfredo de Liovicanio. This Master class(h) in good table manners ends up with a bang in a groovy videoclip with a shitload of knives, forks and spoons. No 'Faux Pas'! 
Yorick Heerkens and Terts Brinkhoff - World Accord
Together, we will form a choir, lead by chef conductor Yorick Heerkens and Terts Brinkhoff. Jointly we will sing to a new 'World Accord', peace on earth will be reachable for one evening. 
Make a Lumasol-light art-picture
Come and make a Christmas or New Years message for your family or friends in light!
Silent Disco
We close the night with the Silent Disco! Dance on the table (!) on the music of the dj's of the original Silent Disco, in other words thé phenomenon in which the music doesn't sound through speakers, but only through headphones.  
concept
The concept of the WinterParade is created by pioneer Terts Brinkhoff: the inspiring father of the WinterParade and the Parade. The Parade is a theatre festival that travels through the parks of Rotterdam, Den Haag, Utrecht and Amsterdam every summer. Not long ago, also a new festival, Showman's Fair, premiered in Utrecht, and in 2018, this festival will travel all the way to Governor's Island, New York. 
How to order tickets?
You can order your tickets online at this website. Until the day of your visit you can order
online until 16:00. After that, you can buy tickets at the box office on location (subject to
availability) between 18:00 and 18:45.
1. To order tickets, visit "Kaartverkoop" above and select the date you wish to visit the
WinterParade.
2. 'Meer informatie' opens a window with the description. Click on the shopping cart icon
and you will enter the login screen. Make sure you have selected the correct date and
location.
3. To buy tickets, you must create an account for the Parade checkout. This needs to be
done only once, for future orders you can always use this account.
NOTE: CJP stands for Cultural Youth Passport. It's a Dutch card which provides you many
discounts on cultural events. The CJP-card is part of EYCA (European Youth Card
Association); EYCA-cardholders benefit from the discount charge of €37,50 , but only at the
box office on location.
4. Once you are logged in, you can fill in the number of tickets. Make sure you enter the
other charge (Web kind t/m 12 jaar) for children under 13 years. Click 'Volgende' (next) for
the following steps in which you enter your address, and the way you want to pay.
When paying, you will be directed to the website of the bank or credit card company. For every order, a service cost of €2,50 will be charged.
5. After the payment steps, your order is completed and you will receive a confirmation
email. This may take 15 minutes. Should you not receive this email, please contact the box
office at kassa@mobilearts.nl or call 0031 (0)33 465 4555.
Your confirmation email contains a PDF with your E-ticket. Take this printed note or make
sure they are readable on your phone. Your e-ticket will be scanned at the entrance.
6. If you select 'Verder Winkelen', you can always return to your order by clicking the
shopping cart icon in the main menu (above).